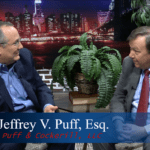 Our own Jeffrey Puff recently shared his views on the topics of Estate Planning and Elder Law during a taping of "Justice for All with Casey Price" on the RVN Televison Network.
Watch Video
Mr. Puff discusses the "art of the will" as part of the estate planning process as a whole and the benefit of proper planning to avoid problems in the future.  Mr. Puff also discusses the reasonable cost of drafting a will as part of your estate plan and the benefits of preparing an estate plan with an experienced estate planning attorney.  Additionally, Mr. Puff discusses the cost of estate litigation and how litigation may be properly avoided through proper planning.  Additionally, Mr. Puff discusses the probate process in New Jersey, including the distinctions between probate property and non-probate property, as well as, how this distinction between can alter the distribution to beneficiaries.  Mr. Puff also explains the powers granted under a power of attorney and the importance of naming a trusted individual as your agent under your power of attorney.
Mr. Puff and Mr. Price also discuss topics in Elder Law, including guardianship applications in New Jersey and how having a proper estate plan with a power of attorney can be a cost-effective alternative to having to file a guardianship application with the court.
Mr. Puff further explains common issues in Estate Litigation, such as undue influence and fraud claims.  With elderly individuals, there are often issues of mental capacity and dementia.
Lastly, Mr. Puff discusses what happens when an individual dies without a will and the specifics of the distribution an estate when the decedent dies without a will in New Jersey.
Casey Price is a partner in the law firm of Price & Price, LLC, located in Haddonfield, NJ.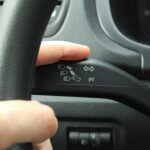 Let's discuss the New Jersey turn signal law. New Jersey's rules regarding signaling before starting, turning or stopping require a driver to give an appropriate signal before turning. Not only does the rule require a NJ driver to use their turn signal one-hundred (100) feet before a turn, N.J.S.A. 39:4-126 also prohibits a vehicle from turning left, right, forward or back until such movement can be made with safety. While the NJ signaling before turning rule may seem simple, the consequences of being found guilty for failing to signal results in two (2) points towards your driving record. Thus, it is important to know the rule and abide by the rule.
Tickets for not Using Your Turn Signal
Over the past 35 years, our law firm has represented hundreds of clients who received New Jersey traffic tickets, including for failure to signal before starting, turning or stopping. Some of these traffic violations, i.e., failing to signal before starting, turning or stopping (N.J.S.A. 39:4-126), involve the imposition of motor vehicle driving points, payment of fines, surcharges and costs. Of the penalties, the most typical concern centers around the imposition of motor vehicle points because points can lead to an increase in automobile insurance premiums and, if points accrue to the threshold, they can result in the suspension of your driver's license. Accordingly, it is important to speak with an attorney before you plead guilty to any motor vehicle violation.
Penalties for Violating N.J.S.A. 39:4-126 (not using your turn signal)
A person convicted of a failure to give proper signal in New Jersey is subject to a fine of $85.00 and is subject to two (2) motor vehicle penalty points for a first offense.
Our attorneys can discuss your options, as well as, appear with you in municipal court. Due to the potential penalties for a traffic violation or ticket, you may incur fines, points on your driver's license record, surcharges and costs, all of which are reasons to speak with an experienced attorney in handling these matters.
Let's examine the duties of the executor, trustee and agent as it pertains to your estate plan. Selecting a person to carry out the provisions of your estate plan is one of the important and difficult decisions involved in the estate planning process. Yet, the selection process is often overlooked. There are a few practical guidelines in the selection process.
Before selecting any person, it is vital that you understand what it is that person should be doing and how that person may interact with others. Accordingly, the following is a brief discussion of the duties of the executor, trustee and agent (under a power of attorney).
Executor – an executor is the person named in a will to serve as the personal representative of a testator when his or her will is being probated. When the person dies, the executor is charged with the responsibility of locating and probating the decedent's will. Further, the executor must then safeguard the decedent's property, pay debts, taxes and expenses, and finally distribute any remaining assets to the beneficiaries as specified in the decedent's will. Typically, an executor's responsibilities last from nine months to three years.
Trustee – a trustee is the person (or institution) named in a trust agreement to carry out the objectives and follow the terms as set forth in the trust. A trustee's duties will vary with the complexity of the trust agreement, thus the more complex the trust agreement is, the more knowledgeable and experienced the trustee should be. The duties of a trustee, however, typically include satisfying tax objectives, protecting trust assets in compliance with the dispositive intentions of the grantor, and distributing assets to beneficiaries as expressed in the trust agreement, among other responsibilities. Unlike an executor, a trustee's responsibilities can last many years, even beyond a generation or two.
Agent – an agent is a person named in a power-of-attorney (there are multiple types of powers of attorneys, including health care power of attorney and financial power of attorney) who settle choices on your behalf in the event you are unable to do so yourself. An agent under a POA may have responsibilities that last through the lifetime of the person for whom the POA was designed.
Attributes of a Good Executor, Trustee or Agent-in-Fact
With a general understanding of duties and responsibilities, the following is a non-exhaustive list of general attributes of a good executor, trustee or agent-in-fact.
1. Availability and willingness to serve
2. Competence
3. Integrity and loyalty
4. Trust and confidence
5. Business and investment experience and acumen
6. Decision-making abilities
7. Impartiality and lack of any conflict of interest
8. Experience handling such responsibilities
9. Familiarity with your wishes, business, family, etc. (although not always for a trustee)
These nine attributes are just a non-exhaustive list of factors that should be well-thought-out during your selection process. As each role (i.e., executor, trustee, and agent-in-fact) is slightly different, some factors should garner greater attention depending on the role. For instance, a trustee with close familial ties to the beneficiaries may or may not be the best fit on a discretionary trust, whereas someone with a more objectivity and less personal connection may be better suited for the decision-making responsibility.
If you have any questions about the selection process or wish to speak with an experienced estate planning attorney, please contact the estate planning attorneys at Puff & Cockerill LLC. Our estate planning attorneys are experienced and well-versed with the particular nuances of each role and the corresponding responsibilities.