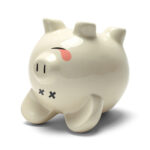 A common question asked by our clients is what happens when my parents die with debt? The answer is, generally, you are not liable for your parents' debt unless you have personally co-signed a loan or account with your parent. Without co-signing on your parents' debt, the debt becomes part of your parent's estate.
What Happens When My Parents Die with Debt and they HAD A WILL?
The result is essentially the same. The executor (if your parent died with a will) or administrator (if your parent died without a will, i.e., died intestate) is responsible for marshalling the assets of the estate and handling the debts of the estate. If the estate is insolvent (i.e., debts are greater than the assets of the estate) after selling all the assets of the estate, it does not mean the executor and/or the beneficiaries of the estate are liable for the outstanding debt, so long as they did not co-sign the debt.
Common debts among seniors include housing (mortgage) debt, outstanding medical bills, credit card debt and auto loans. Debt can range from $1,000 to greater than $100,000. Regardless of the size of the debt, it is the responsibility of the executor to determine the total debt. It is not the responsibility of the executor or administrator to inform creditors that the decedent passed away. Creditors have nine months following the date of death to make a claim against your parent's estate. Absent fraud, when the nine-month period ends, creditors may be barred from submitting a claim against your parent's estate. (This is a complicated area of the law and your lawyer should be consulted). If the estate is unable to pay all the debt, the debts usually remain unpaid and creditors will be forced to bear the loss.
How Many Seniors Die With Debt?
Recently, there is a growing number of seniors with debt. According to a report from the Employee Benefit Research Institute, 49.8 percent of families over the age of 75 have debt. The average debt for these families is $36,757. As a result, senior debt is a common issue when administering your parent's estate.
If you believe your parents or loved ones may die with debt, please feel free to contact the estate administration attorneys at the law firm of Puff & Cockerill LLC to determine the extent of the estate's liability. If you are named the executor or file with the surrogate court to be appointed administer of your parent's estate, you may wish to seek experienced counsel.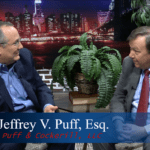 Our own Jeffrey Puff recently shared his views on the topics of Estate Planning and Elder Law during a taping of "Justice for All with Casey Price" on the RVN Televison Network.
Watch Video
Mr. Puff discusses the "art of the will" as part of the estate planning process as a whole and the benefit of proper planning to avoid problems in the future.  Mr. Puff also discusses the reasonable cost of drafting a will as part of your estate plan and the benefits of preparing an estate plan with an experienced estate planning attorney.  Additionally, Mr. Puff discusses the cost of estate litigation and how litigation may be properly avoided through proper planning.  Additionally, Mr. Puff discusses the probate process in New Jersey, including the distinctions between probate property and non-probate property, as well as, how this distinction between can alter the distribution to beneficiaries.  Mr. Puff also explains the powers granted under a power of attorney and the importance of naming a trusted individual as your agent under your power of attorney.
Mr. Puff and Mr. Price also discuss topics in Elder Law, including guardianship applications in New Jersey and how having a proper estate plan with a power of attorney can be a cost-effective alternative to having to file a guardianship application with the court.
Mr. Puff further explains common issues in Estate Litigation, such as undue influence and fraud claims.  With elderly individuals, there are often issues of mental capacity and dementia.
Lastly, Mr. Puff discusses what happens when an individual dies without a will and the specifics of the distribution an estate when the decedent dies without a will in New Jersey.
Casey Price is a partner in the law firm of Price & Price, LLC, located in Haddonfield, NJ.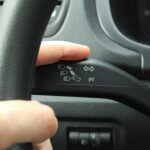 Let's discuss the New Jersey turn signal law. New Jersey's rules regarding signaling before starting, turning or stopping require a driver to give an appropriate signal before turning. Not only does the rule require a NJ driver to use their turn signal one-hundred (100) feet before a turn, N.J.S.A. 39:4-126 also prohibits a vehicle from turning left, right, forward or back until such movement can be made with safety. While the NJ signaling before turning rule may seem simple, the consequences of being found guilty for failing to signal results in two (2) points towards your driving record. Thus, it is important to know the rule and abide by the rule.
Tickets for not Using Your Turn Signal
Over the past 35 years, our law firm has represented hundreds of clients who received New Jersey traffic tickets, including for failure to signal before starting, turning or stopping. Some of these traffic violations, i.e., failing to signal before starting, turning or stopping (N.J.S.A. 39:4-126), involve the imposition of motor vehicle driving points, payment of fines, surcharges and costs. Of the penalties, the most typical concern centers around the imposition of motor vehicle points because points can lead to an increase in automobile insurance premiums and, if points accrue to the threshold, they can result in the suspension of your driver's license. Accordingly, it is important to speak with an attorney before you plead guilty to any motor vehicle violation.
Penalties for Violating N.J.S.A. 39:4-126 (not using your turn signal)
A person convicted of a failure to give proper signal in New Jersey is subject to a fine of $85.00 and is subject to two (2) motor vehicle penalty points for a first offense.
Our attorneys can discuss your options, as well as, appear with you in municipal court. Due to the potential penalties for a traffic violation or ticket, you may incur fines, points on your driver's license record, surcharges and costs, all of which are reasons to speak with an experienced attorney in handling these matters.