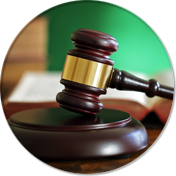 The Woodbury NJ law firm known as Puff, Sierzega & MacFeeters is a full-service law firm with decades of experience and is the only law firm you will need.
With a law firm as qualified as Puff, Sierzega & MacFeeters working for you, you will receive excellent attention. Our team in Woodbury NJ is a full-service firm and will battle to get you the settlement you deserve.
A Leading Woodbury NJ Law Firm
At Puff, Sierzega & MacFeeters, our attorneys offer a wide range of legal experience and expertise across the legal spectrum. Our attorneys enable our firm to be a full-service law firm, able to provide professional representation for all of our client's issues and matters. Our initial consultation fees are very reasonable, and we listen to your problems and matters, discuss and tailor legal solutions, and quote a reasonable and proportionate fee to our client's matter at issue.
If you need a Woodbury NJ law firm, do not hesitate to contact Puff, Sierzega & MacFeeters.  Our full-service law firm, under the leadership of Jeffrey Puff will provide better service than any competing law firm in Woodbury NJ.
Puff, Sierzega & MacFeeters is a Gloucester County law firm based in Woodbury NJ. Our attorneys provide litigation, transactional and counseling services in all of the firms major practice areas, including estate law, family law, elder law, real estate law, business law, consumer law, personal injury law, workers' compensation law, and municipal court violations. Our difference comes from a strong connection to our clients, to each other, and to our community. Having such strong relationships – with our clients and each other – means we are able to offer the service of a boutique firm with the strength and expertise of a large-city firm.
For more than 40 years, Puff, Sierzega & MacFeeters has been dedicated to serving clients throughout New Jersey, including Gloucester County, Camden County, Burlington County, Cumberland County and Salem County. Our clients include individuals, families, estates, small and mid-size businesses and entrepreneurs.