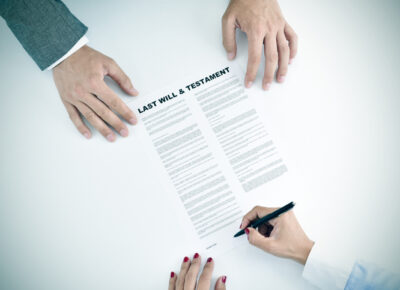 Wills are a small, but important part, of the estate planning process. A will, at its basic function, directs what will happen to your property and estate after you die. Wills are unique to each individual's desires, family, age and financial situation.
As such, our attorney's understand that a will is more than filling out names and numbers in a standard will kit that you can purchase online. Instead, wills should be given the care and diligence.
At Puff, Sierzega & MacFeeters, we have helped clients protect their loved ones and their assets for over 40 years. Our attorneys are proven and experienced in the areas of estate planning.
Our approach is to work with our clients and to provide each client with a full understanding of the estate planning process and how each change or step in the process may affect their goals and objectives.
What a Will Can Provide
A will insures that your estate will be handled in the manner you want it to be. Simply speaking, a will is a set of instructions for the distribution of your assets upon your death. The only way to make sure that those assets are distributed according to your wishes is to have a will. Wills also provide the individual an opportunity to appoint a personal representative known as an executor.
The executor is the person authorized to manage your estate after you die. In addition to the executor, a will allows you to appoint guardians of minor children. A guardian becomes authorized to care for minor children until the age of maturation. Within your will, you may instruct your chosen guardian of your minor children on how to pay debts, taxes, and provide for future education.
Who can Make a Will
The requirements to make are simple; you must have the mental capacity and be of a sound mind.
What If You Die Without a Will
If you die without a will, you are legally speaking deemed to have died "intestate" (meaning, not having a will at ones death). When one dies "intestate," the State of New Jersey decides who will represent your estate, and a set of laws called "Intestate Succession" determines who will receive what. Under "Intestate Succession" law, non-family members cannot inherit. If no living family survives you that can inherit, all of your property will pass (or "escheat") to the State of New Jersey.
Having a Will Saves Your Loved Ones Expenses
If you should die without a will (or "intestate"), a bond must be posted to make sure that the estate is administered properly. The annual premiums on that bond during the administration of your estate will most likely be significantly more than it would cost to hire an attorney to prepare a will that relieves your executor of that responsibility.
Simple Will
Will with Testamentary Trust
Pour Over Will
A Commercial Will Kit Is No Substitute for an Attorney Drafted Will
Our experience indicates that a commercial will kit is no substitute for a well drafted will by an attorney. Will kits are prepared so as to be used in all fifty states. Therefore, problems can arise from the inevitable differences in the laws of each respective state. Each state varies in several categories, including, but not limited to, inheritance tax, estate tax and gift tax.
Even the specifically drafted will kits for the State of New Jersey are not as iron-clad as a well-drafted will by an attorney. It is important to know ahead of time that it only takes one mistake to lead to a substantial expenditure of time and money by your loved ones to correct an error from a standard will kit, even a will kit specific to New Jersey. To schedule a consultation with one of our estate planning attorneys, please call our office (856) 845 – 0011 or email us at info@pufflaw.com.