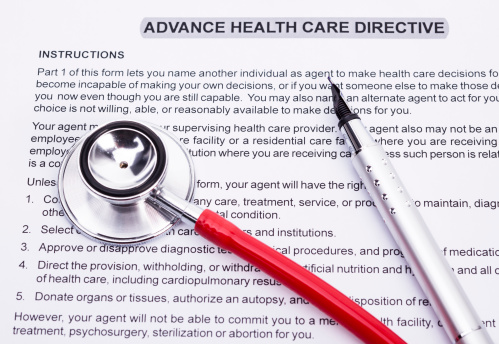 Medical directives are an integral part of the estate planning process. Medical directives are also commonly known as "advance directives," "advanced healthcare directives," and "living wills."
What is a Medical Directive? Simply stated, medical directives are a set of instructions regarding your wishes for future medical treatment in the event of your incapacity or disability. In the medical directive, you are able to express your desires in the event of a number of tragic outcomes and know that your wishes will be respected.
For instance, if you are involved in a serious car accident that leaves you in a coma with little to no help of recovering, you will not be able to explain to your treating physician and family your medical wishes.  However, in steps your medical directive.
The medical directive serves as a pre-thought-out plan that will instruct your physician and family exactly how you wish to continue treatment. Having a medical directive will ensure that your medical wishes and well-being are cared for in accordance with your desires.  The existence of a pre-thought-out plan will alleviate your family and loved one's concerns for making life-changing decisions that may go against your intended wishes.
Different Types of Medical Directives
Living Will

A living will allows you to express your wishes to receive or not receive future health care treatment.

Durable Power of Attorney for Health Care

A durable power of attorney for health care allows you to appoint an individual of your choice to make health care treatment decision on your behalf in the event you are incapable of making them for yourself.

Do-Not-Resuscitate Medical Directive
To schedule a consultation with one of our estate planning attorneys, please call our office (856) 845 – 0011 or email us at info@pufflaw.com.