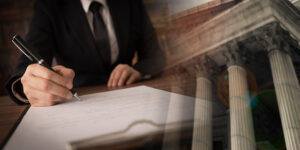 For dedicated and experienced lawyers in Mount Royal NJ that can help you and your family in legal matters, reach out to the firm of Puff, Sierzega & MacFeeters. We've been successfully serving Gloucester County residents from our conveniently located Woodbury office for over four decades, and we're ready to serve your legal needs. We're dedicated to the best results for our clients, at a reasonable cost.
Our Mount Royal Area Lawyers' Services
Our attorneys provide legal assistance for Mount Royal residents and business owners in a variety of legal matters and in multiple practice areas, including:
Estate Law. When legal disputes arise over an estate, such as contested wills or misappropriated assets, we represent clients in negotiation and litigation. We also help families with vitally important estate planning, regardless of their economic standing. Our firm understands the emotional stress that estate matters can cause loved ones and families, and we work hard to create a strong relationship with our clients and help them more forward.
Family Law. The attorneys at Puff, Sierzega & MacFeeters have years of experience guiding clients through matters of divorce, child custody disputes, pre-nuptial agreements and more. We work at finding the best resolution for you and your children. Whenever possible, we seek out cost effective alternatives to litigation to lessen the high financial strain of divorces and custody battles.
Real Estate Law. Our real estate attorneys represent Mount Royal residents in property sales, landlord/tenant disputes, breach of contract and other real estate legal matters. We have a solid and thorough understanding of the very complex real estate laws in New Jersey, and we know how to protect your legal rights.
We can also assist you in other legal matters, including business and consumer law, personal injury cases, workers' compensation and much more. Visit our Other Services page to see if we can respond to your current legal needs.
Whatever your needs for lawyers in Mount Royal NJ, call on the offices of Puff, Sierzega & MacFeeters or use this online form to e-mail us and request a consultation. We'll work for the best legal results for you at a fair price, so you can get move forward again.