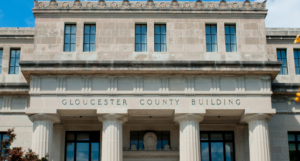 Puff, Sierzega & MacFeeters is a conveniently located firm of attorneys near the Gloucester County Courthouse, a short walk just steps away across Broad Street. We bring 35 years of experience as a firm in all types of litigation to meet your legal needs.
If you've found yourself in a legal situation in the Gloucester County Courthouse and need a qualified and experienced attorney, we're right here for you.
Attorneys Near The Gloucester County Courthouse – Our Services
We offer professional and expert legal assistance in the following areas:
Estate Law – Puff, Sierzega & MacFeeters attorneys bring over 100 years of combined experience in estate law to assist you with estate planning, estate litigation, and estate and probate administration, regardless of your income level or net worth.
Family Law – We offer proven successful experience in child support, child custody, alimony, domestic violence and numerous other types of family law matters. We understand the need for a zealous and ethical advocate in such stressful situations.
Real Estate Law – We offer legal counsel for all aspects of the complex real estate laws of New Jersey. Whether you are a buyer or a seller, we can guide you through the complex process of real estate transactions.
Among attorneys near the Gloucester County Courthouse, Puff, Sierzega & MacFeeters stands out from the competition for our connection to our clients, to each other, and to the community, and our philosophy of tailoring each case to meet our client's needs.
Whatever your estate planning, family law, or real estate needs, if you are a Gloucester County resident needing to handle your legal needs at the Gloucester County Courthouse, Puff, Sierzega & MacFeeters is here for you. We're ready to represent you and your family, and bring about your best possible legal outcome, at a price that is reasonable and proportionate. Contact our offices through this online form or by phone today and let us help solve your difficult legal challenges from our convenient location.